Pickup & Delivery
We offer the following 3 Pickup and Delivery options:
In-Store Shopping, 7-days a week, from 12PM to 9PM
Come meet our team, get the products you want for the best prices and the best shopping experience around.
In-Store Pickup
Order online and pick your order up in a flash directly at the store. Just pay when you get to the store and off you go with your products!
Same-Day Delivery
We offer Same-Day Delivery within a 6KM radius from our store.
Orders must be placed before 4PM.

Orders will be delivered anytime between 4PM and 9PM.

Delivery Fee

is a flat $5 per order.

Minimum order value

has to be $40 or more.
This is what our delivery area looks like: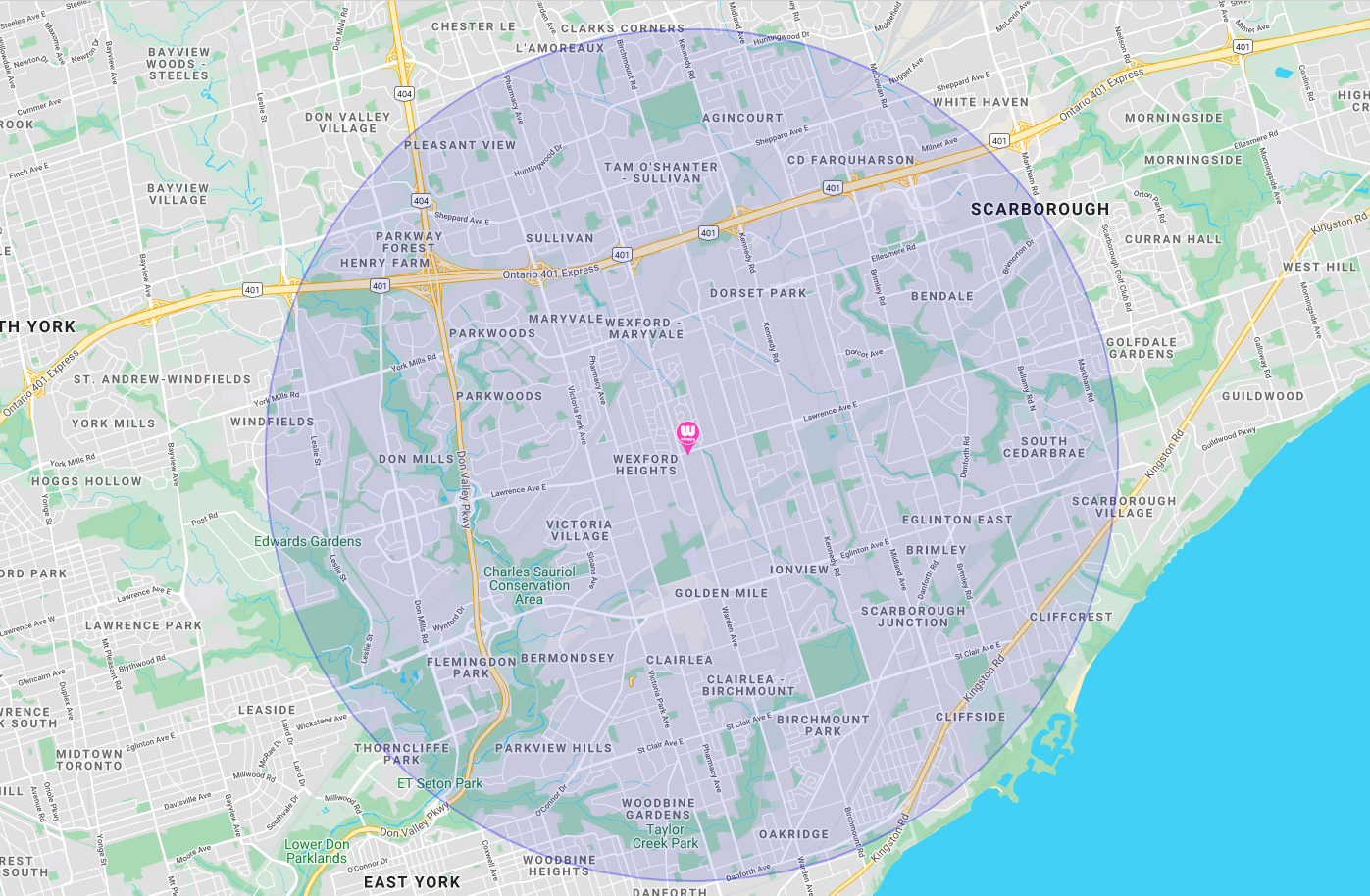 Delivery Frequently Asked Questions (FAQ):
When do I pay for my order?
You pay the driver for your order when you get it from him/her.
How do I pay for my order?
The driver has a debit/credit card terminal so you can pay using any Visa, MasterCard or Debit card.
Will the driver accept cash?
Not at this time. Cards only.
How do I know if you deliver to my address?
Our system will check with your postal code and if your postal code is in our delivery zone, then you will see a delivery option show up at checkout. If you do not see the option for delivery, it means you are too far from the store.
Can I choose a specific time for delivery?
No. We will deliver to you anytime between 4PM and 9PM. We cannot tell you an exact time but you will be notified around 15 minutes ahead of time that we are on our way.
How will I know you have arrived?
When we are on our way to you, we'll send an SMS (text message on your cell phone) with a link to a LIVE map where you can track your Whappy driver. Yes just like UBER! Once we get to your building, we will wait a minute and send you a reminder. You'll have 5 minutes to come meet us at the car or we will drive off to our next delivery and cancel your order.
How do I know which car is yours?
There's a large pink sign on the front doors of the car. It should be easy to spot!
Can I call or contact the driver?
No. However, we will contact you via SMS (text message) on your cell phone as we are coming to you and once we are in front of your building.
Will you deliver to my door?
No. You have to meet us at the car in front of you house/building.
I live in a condo or apartment building, will you come to my apartment/condo door?
No. You have to meet us at the car in front of you house/building.
Can my friend, sibling, kid, parent, neighbor get my order from the driver?
No. We have to give the order to the person who's name show up on the order. We will validate with your official photo ID (Driver License, or Health Card).
How much do I pay for delivery?
$5 flat fee.
Do you deliver everywhere in Ontario?
No. We only delivery within a 6KM radius around our store. You can refer to the map above to see how that looks like.
Is there a minimum order for delivery?
Yes. $40 minimum order value.
Can I tip the driver?
Yes of course :)
What if I change my mind about my order?
Call us at the store as soon as you can at 1-888-969-2594
What if I need to return or exchange an order that was delivered to me?
All purchases of cannabis products are final sale.